1. Reddit
Don't be fooled by the simple design of Reddit. With over 1,6 billion visitors(!) per month, the Reddit community is one of the most vibrant communities on earth. What's powerful with Reddit are the thousands of niche sub-communities (subreddits) where a brand can find an enthusiastic and dedicated crowd, even within the smallest niche.
You can promote your company and content through both text ads and link ads. I would recommend link ads as it will drive traffic to your content, and that's one of the main targets with your distribution channel. So just go ahead and get ready to welcome your new visitors!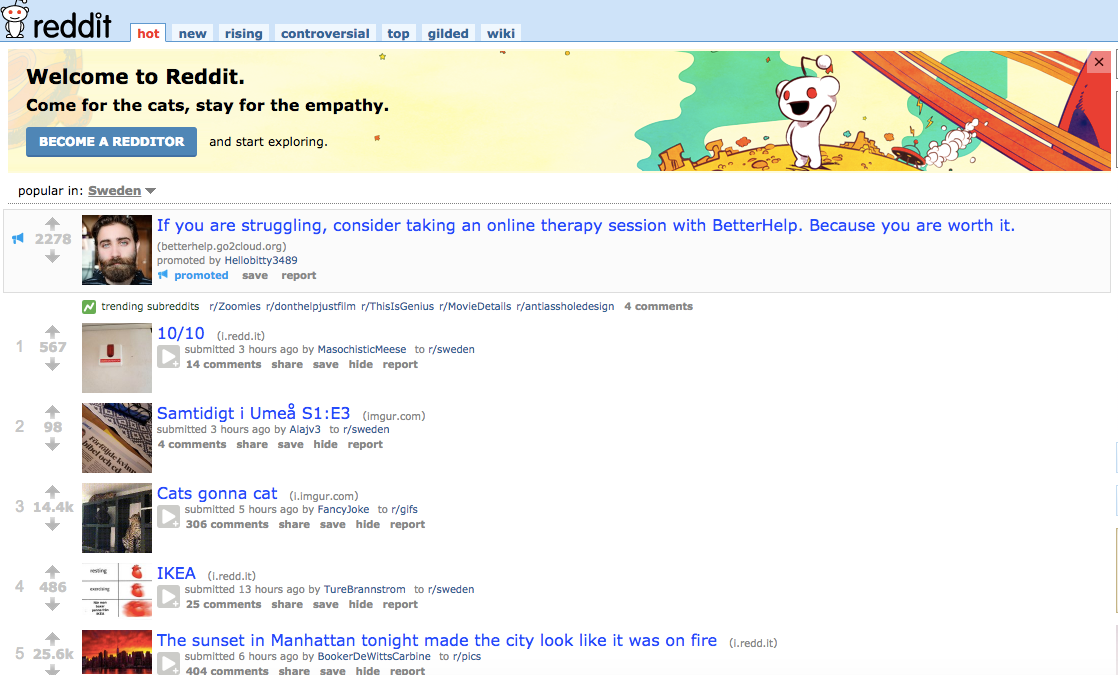 2. Pinterest
The Pinterest community is about the sharing and collecting of inspirational pictures, or 'pins' as they call them. Pinterest users build their own boards and browse the boards of others to find inspiration within fields such as food, home decor, design, fashion and events. The majority of Pinterest users are women and there are over 2 billion monthly searches on the network. Does your product or service say it better with pictures than words? Sign up for a business account and start building an inspiring board! A business account gives you full insights, analytics tools, and you can sponsor pins and use "rich pins" with extra information about your product to convert your beautiful content into business.
3. Quora
Quora has over 200 million monthly unique users. The network is built around people asking questions and the community answering them. Watch out when visiting Quora as it is easy to fall down a loop of interesting questions, spending hours just learning new stuff when you're supposed to be doing something else. But this is also why Quora can be such a goldmine for marketers to grab the attention of the readers. Advertising is really easy, just set up an Quora ad account and start counting the visitors to your great content. Remember to tailor your ad so that it suits the quora format - maybe with a savvy question and answer, to keep everything native to its context!
4. Product Hunter
Product Hunt is a community where people search for and rank new products. Its community is especially strong within games, books and SaaS. This could be a great distribution channel to increase the awareness of your product. What's special about the community is how influential its members are. The average Product Hunt contributor is reported to have more than 7000 followers on Twitter. There's one challenge here though: Product Hunt is a closed community. This means that you'll need an invite to join, but when you're in, it's a great channel. Read more about how to get access here.
5. Strossle
Sure, we're biased, but Strossle's own native advertising network is a very powerful traffic generator for quality content. We promote your content on thousands of quality publishers across Europe,as sponsored recommendations. You reach your target audiences when they are in "content consumption mode", resulting not only in more visitors, but in quality visitors that spend a long time and really consume your content.
Also, distribution via Strossle is 100% GDPR safe, since we don't use personal data. Instead we apply contextual targeting based on text analysis and machine learning.
Hope you've found this post inspiring and that it helps you to explore some new channels to boost your business!
Want to to see how great click-through-rates you can get by native distribution of your content? Check out this guide.