Union poisťovňa, a.s. is one of the most experienced health insurance companies on the Slovak market. It offers a wide range of products used by over 500,000 clients and has been awarded a number of prestigious recognitions.
The company is aware of the competition threat, which is why it strives to deliver the best insurance experience to its customers and works continuously on innovation in the sector. One of the tools they are using is creating content and entering the world of content marketing. A PDF version of this case study is also available.
Implementation
Union wished to inform the public about the prevention of oncological diseases and raise awareness of its new oncology insurance plans. The company created articles advising readers how to make their lifestyle healthier and prevent dangerous diseases. The articles included links to products and services offered by the company.
Union chose to also distribute its content—in addition to traditional communication channels— via Strossle. Sponsored article links therefore showed up amongst the standard content that is published on premium media websites with a reach of over 74% of the Slovak online population. The sponsored content was suggested to users at the point when they had finished reading another article and were in the mood for more. Thanks to the PPC model, Union was only charged for those viewers who actually clicked the link.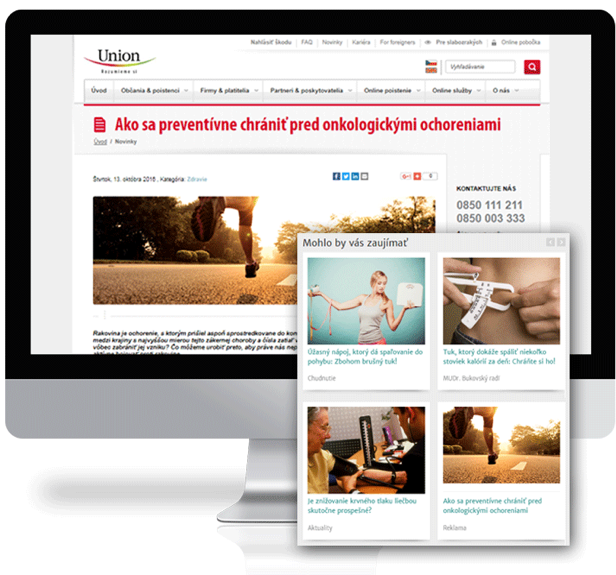 Results
Content marketing delivers desired results when great content is matched with great distribution. Union created content that offered help and advice. Strossle used contextual targeting to draw visitors. 89% were unique and the average time on the site was 2:47 minutes.
Out of this number, 5% of visitors went on to click on the oncology insurance request form.
Since Union prepared several alternative headings for its articles, it was possible to A/B test the performance of each version. The most successful version reached over 2% CTR.
"Communication regarding the campaign was excellent from the beginning. We were pleasantly surprised by the number of visitors who proceeded to the order form after reading our article. The results certainly surpassed our expectations. We recommend Strossle highly,"
says Katarína Serbínová, digital marketing and direct selling manager for Union Poisťovňa, a.s.
What Next?
With results like these, Union now aims to exploit the content marketing trend to the full. The company is currently developing similar activities to expand their reach and increase their engagement further. They are also setting up processes to engage their employees in creating quality content that helps the public to find their way in the complex world of insurance.
Download the case study in the PDF version.