What is a recommendation widget?
The Strossle recommendation widget is a powerful tool for publishers. Like the Kinder Surprise chocolates of youth, the widget does 3 things at once:
1. Increases the engagement of your readers:
By promoting the most interesting, relevant and engaging content on your site, users stay longer and develop their relationship to your content.
2. Increases your inventory:
Keeping user engaged with your articles means more pageimpression per visitor = more inventory to help drive revenue. Strossle visitors have an average of 5x the number of page impression per visitors compared to other traffic sources like Facebook, where users tend to "bounce" back to their feed.
3. Earns you money
That's right. Strossle loads the widget with links to commercial partners. Whenever a visitor clicks on an ad on your site, our customers pay you for that traffic. Traffic revenue is distributed monthly by Strossle, there's no job required on your part.
Money for nothing? What's the catch?
Simple: There is none. Strossle works with hundreds of publishing partners across Europe. Together we help you grow, monetize your content through non-intrusive ad formats that blend into seamlessly into your site yet remain clearly labelled as "sponsored content" or "ads". If you deliver great content - we grow with you. It truly is a partnership.
So what does this Widget look like?
You decide. The widget is customized either by us our you to match the design and look of your website. Its part of your Content Management System and does not impact the loading speed of your site. We work on contextual data, so there's no data leakages to worry about or GDPR related concerns.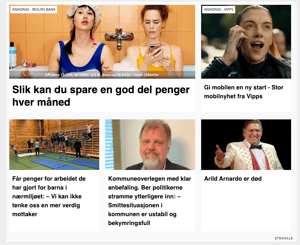 The widget is generally placed underneath your articles as a natural steppingstone to other content on your site, like the picture
in the top of this article (the picture is just a mock-up). But formats like side bar, fly-in, top bar or in-feed (on mobile) are popular and common.
When it comes to widget design, the only limitation is your imagination. A widget can be customized to fit any space on your site.
We have thousand of unique widgets live at the moment . Together with each publisher, we've carefully tested each one to maximize performance.
What about my own Advertorial content?
Use Strossle's "House ads" to manage your content and deliver it to your users through our widget. It's a powerful, cost free tool for publishers with a "partner studio" or Content Marketing sales department
What content do you present in the widget?
This will differ from publisher to publisher, of course. Strossle's widgets use machine learning to present the most relevant articles and native ads for each user. Our algorithm is proprietary, but that doesn't mean you have no say. The widget can be adjusted to reflect your latest content, most read or even content from other sources you collaborate with.
The Strossle algorithm is the "secret sauce" of our business and is developed to increase the interest in your content. This approach is fundamental to creating a high-performing widget, as no one clicks on content that doesn't interest them or grab their attention.
Do you have examples I can look at?
Absolutely, our Publisher Relations Managers will gladly send you links to live widgets, talk about API integrations or teach you how to design and manage your own Strossle integrations. Click the button below, and we'll have you live at zero charge or commitment in a matter of minutes.