The funnel
A marketing funnel is a theoretical model of a buyer's journey toward the purchase of a product or a service. The typical model is usually divided into the stages of awareness, opinion, consideration, preference and purchase. A more hands on version where the actual transaction is in focus is usually illustrated something like this: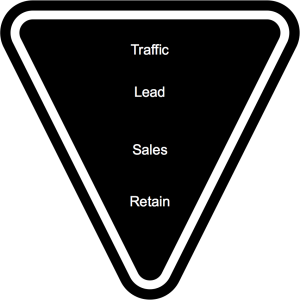 By optimizing each stage of the funnel, you'll increase the number of paying readers. An adapted subscription funnel can be illustrated like this:
When a publisher first shifts from a free model to a subscription-based model, they have the top of their funnel filled up with visitors after years of free content. This will make conversions easier in the beginning because they've already got a high volume of established visitors to work with. Even publishers with a really low conversion rate will turn some readers into subscribers. However, in the long run, the top part of the funnel has to be constantly refilled with new leads, and the conversion rates have to be actively managed and improved to build a sustainable subscription business.
One risk that is common with this approach is the inevitable decrease in the number of new subscriptions after a while. This typically happens when there has been too much focus on converting people that were in the funnel from the beginning, without adding new people to the top of the funnel.
The key to increasing the number of paid subscriptions
To keep your subscription business thriving, you need to achieve the following objectives:
Maximize the number of relevant visitors

Minimize friction in the buying process

Offer the right content to the right user
Below are some suggestions on how to achieve these objectives:
Maximize the number of people in the top of the funnel
One major factor to consider here is what to put behind the paywall and what to give out for free. Exclusive content can attract subscribers; however, if everything is hidden, users will have trouble understanding the value of your content.
In the beginning, it's possible to have quite a high proportion of the content behind paywalls because loyal readers already know how great the content is. However, in the long term, new visitors need the opportunity to learn about this value. Hence, finding a proper balance is of great importance. Some publishers solve this problem by offering a number of articles free per day, week or month. One idea is to offer free content but require something in return, like the email address. With this approach, you've turned the visitor into a lead and can start communicating with him or her on a much more personalized level. This method is well proven in inbound marketing.
When you've decided on what content to put behind a paywall and what content to offer for free, it's time to think about your distribution strategy. Whether it is free or behind a paywall, the role of distribution is to attract new readers and remind your current readers of your great content. Your distribution strategy (direct traffic excluded) can include for instance Facebook, Google and Strossle's cross-promotion platform for publishers.
Evaluate whether you should use a free trial, freemium, or both!
Free trials and freemium models are sometimes confused as the same. They are both great ways to turn visitors into leads, but the concepts differ. A free trial is what it sounds like; you offer your full service for free during a limited period of time. The freemium offer on the other hand, provides certain functionalities of your service for free. Freemium models can vary greatly; take a look at this article if you want to learn more about that.
A freemium model can be a great way to ensure that your visitors are logged in when consuming your content. One typical example of a freemium model is the free version of Spotify. Netflix, on the other hand, doesn't have a freemium model; they only offer a free trial (one month) to their clients.
For unknown reasons, most publishers offer free trials rather than freemiums. Maybe browsing the free content could be seen as some kind of super freemium model. But we believe that a freemium model's true power comes when you at least have the user logged in, which allows you to tailor your communication and understand his or her consumption behavior.
Make the funnel friction-free
If you ask for too much information too early in the funnel, you run the risk of losing your prospect. The major question here is to decide when to request credit card information. Demanding credit card details can reduce conversions drastically, but it also makes it easier to turn a lead into a paying client.
Requesting credit card details for a free trial or freemium will lead to:
* Reduced sign-up rates

* Improved lead quality
Not requiring a credit card will lead to the opposite. What is right for you? We recommend A/B testing, because it varies so much depending on your specific offering and target group.
Another thing to analyze is your sign-up forms. By keeping these simple and easy, you'll keep conversions as high as possible. Things to consider here are:
* Headlines

* Words used to describe each field

* Number of text fields

* Spam filters like captcha (great to keep spam away, but if they are complicated, they'll also keep buyers away).
Identify which articles your visitors are most likely to pay for
You want to get as many visitors as possible that convert on your site, but there is no point trying to convert visitors that will never buy. So you have to find the right users.
Find out what articles your ideal subscriber reads
Offer your subscription there
Test, test, test, test and test some more (see below)
Apply A/B testing and dynamic landing pages
A landing page is the one you use to convert your visitors to leads or to subscribers. These pages are extremely important.
It's surprising to see how many publishers simply use the same static page all the time, especially where the user is asked to register or log in to view the article.
Here are a few examples that you can start experimenting with:
* How much of the article should be possible to read without paying?

* How much space on the screen is covered by the article image?

* How do you construct your call-to-actions?

* What colors do your call-to-action buttons have?

* How much information regarding subscriptions do you give the user?

* What font sizes do you use for the different parts?

* Try out different kinds of sales copy to see what converts best.

* Try different headlines to see which convert best.

* Purchase Path - Explore ways to minimize the time it takes to read the article if the visitor decides to become a subscriber.
When you feel that you've A/B tested enough, the next step is to create different landing pages depending on the user or the source of the user. By using the landing page that is best for each user, you'll maximize your conversions.
Create user groups depending on activity level
Once you have converted a visitor into a lead (via newsletter subscription, for example), a free trial or a freemium account can be offered. Make sure you focus on the leads that really consume your services. They are the ones most likely to become subscribers. Tailor your activities to these two respective groups. Your goal for the group that is not active is to make them active, whilst the focus for the active group is to turn them into subscribers.
Do the parent test
It's really easy to become blind when working on these things. Remember that a it must be very quick and easy for a normal user to become a subscriber of your magazine or news site. Have your parents or other non-media experts try your site. Stand behind them and watch when they try to become subscribers. If they fail, your users will fail.
Now you're set to go! Never hesitate to contact us at Strossle if you want to join our cross-promotion network for publishers. It is free to join and you will share traffic with hundreds of other publishers to reach new readers together. Strossle works with a vast number of publications and brands. We analyse performance across Europe in real time, 24/7.
Contact us if you want to learn more.
Written by, Leo Heijbel, Head of Marketing at Strossle