Last year Facebook revealed a plan to stop fake news – but the site continues to promote stories it knows are fake. The latest example is a story about Tesla's founder Elon Musk leaving Tesla to jump on a bitcoin tech startup.
After coming under sustained criticism for enabling "fake news", Facebook, last year, unveiled a plan to stop distribution of fabricated stories. The rollout has been rocky though and one of the more conspicuous examples appeared on Facebook this week.
Except from telling a false story about Elon Musk leaving Tesla and jump on a bitcoin tech startup, a sponsored article invited people to invest in the company.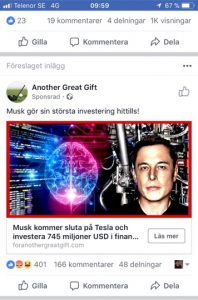 The website, where the story was published, pretended to be the official CNN Tech website and it has the CNN logo. The address reveals it is a fake site though.
- This is just another example of how important it is for both advertisers and publishers to consider brand safety. Ask yourself how it can harm your brand to appear alongside fake stories like this, says Magnus Hultman, CEO of Strossle.
So what options do publishers have, to increase traffic to their sites, if they are not to use Facebook?
The solution is cooperation between publishers, says Magnus Hultman.
- This is exactly why we invented the Strossle Accelerator. It is a network of quality publishers sharing traffic with each other. It's brand safe and makes you less dependent on platforms without editorial control, says Magnus Hultman.
Watch how The Accelerator works, here:
[embed]https://vimeo.com/240121567[/embed]