In a previous post we wrote about how the traffic has decreased over the past and continues to decrease. Several of our publishing partners are worried about this trend, and many have contacted us to discuss what can be done to stop this. Working with publishers is at the core of what we do - and although we're happy to help, our main piece of advice might seem controversial… read on and I'll explain.
While traffic comes from multiple sources there are really only two big fish in this pond: Google and Facebook.
Now there are thousands of tips and tricks out there but basically they fall into the same ominous 13 categories.
SEARCH (Typical Google and SEO hurdles):
Not enough domain authority
Not enough page authority
Not enough topical relevance
Content is not organized
Content is not expert
Increased competition
No media spend
Site is slow
Bounce rate is high
Duplicate content
Site migration moved URLs
Not a penalty
Lack of understanding
Google constantly changes their algorithms, not to create confusion as much as to reflect the continuous changes of the general web (long-scroll articles, video, mobile optimized pages and different types of functionality etc). Google does this extremely well but it is important to keep up in order to secure your existing traffic and hopefully increase it.
To read more, take a look at AuthorityLabs where they will dig more into what it means.
SOCIAL (Growing your organic reach):
The massive content explosion on Facebook has had dramatic effects on organic reach. In March 2015 it was only 2,6 %, So for every post you do, less than 3 % will actually see it.
1. Find the right content mix for your visitors
2. Understand how Facebook Insights work
3. Vary your content types on all social channels. What works on Facebook might not work elsewhere
4. Show the audience that you are listening and that you interact
5. Re-posts matter, nurture your evergreen content
6. Post when it is not too crowded, for example early mornings
7. Understand what your content competitors are doing and why.
8. Group your content in different groups and see how the engagement looks like.
9. Change your tone of voice over time
10. Work hard to become important for your group
11. Make a content calendar, what and when to post
12. Increase your posting, volume matter
13. Test different types of content and see what sticks
Some of these I found at Neil Patels blog. Search Engine Journal has a lot of great stuff too.
But here's the bit that might seem odd. My advice is in fact to focus on DECREASING your Facebook and google traffic.
Calm down and listen: It is you, and no-one else but you that made Google and Facebook what it is today. By handing them your content they are now in the position to sell you your own readers back to you. Well done! This relationship is not working in your favor and deepening the commitment is a short term solution with no long-term happy ending.
Strossle recommendation is to start sharing content with other publishers to decrease the dependency. Keeping users engaged in great content close to home keeps them happy and enables a multitude of business models and revenue streams. Focus on sustainability based on core competencies and not strengthening the duopoly of Search and Social engagement. This is what Strossle Visitor Accelerator is about.
Publisher can and must work with other Publishers in the same way that advertisers already collaborate with other advertisers in different verticals. Remember: together we're strong!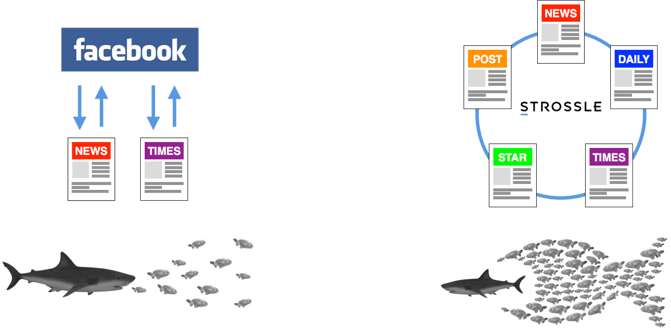 Magnus Hultman, CEO