Content Discovery is about helping users find the most relevant content. It is an algorithm-based activity, employing either personal data or contextual data to predict and recommend content that you are likely to want. You find this kind of technology in almost all digital services today: newspapers, VOD platforms, app stores, etc.

The commercial side of content discovery is often called sponsored content, or sponsored recommendations. As the term suggests, this is content which a company or an organization has paid to get distributed. Even though sponsored recommendations are bought, and must be clearly labeled (using words such as "Sponsored" or "Ad"), the technology to manage relevance is the same. Because it makes sense for all parties, the publisher, the advertiser, and the consumer that also sponsored recommendations are as relevant as possible.
What Content Discovery can NOT do though, is to help brands succeed with crappy content. Because in digital marketing, the ultimate power over what will be consumed stays with the user. And bad content will be rejected.
Every now and then companies ask us to distribute content that we believe does not live up to acceptable standards, for some reason or the other. Therefore we have created simple guidelines that advertisers must follow, to ensure a quality experience for the end-user and good results for the campaign. It goes like this:
Advertising Guidelines for Strossle Customers
THE AD
The ad (or the "recommendation") is a combination of a title, an image, and a preamble. This is what gets the attention of the end user and hopefully makes them click. It is of very high importance to us that end users click because they want to read, not because they were lured. This means that ads must represent the content they link to. Advertisers can not entice consumers with attractive images and headlines and then link to content pages with an entirely different character.
THE ADVERTISER AND THE BRAND
The Advertiser must be a legal entity that can be held liable for the material. The name of the advertiser must be visible either in the ad or on the landing page. If the brand name is mentioned in the title or preamble, it should be from an editorial point of view, for example: "Samsung's new smartphone voted mobile of the year".
THE CONTENT
The main principle is that everything we recommend to users should have editorial value. Ads and content that Strossle distributes must give the consumer a valuable experience in the form of text, infographics, audio or video.
Advertisers are not allowed to fundamentally change the content on a landing page during a campaign, or switch landing page for a certain ad, without written approval from Strossle.
THE LANDING PAGE
A landing page can be a lot of things - an article, a blog post, a campaign website, a YouTube video, a Facebook post, etc as long as the content has an editorial value and is related to the ad. On the landing page, it needs to be clear who is the sender of the message. You cannot make the page look as if it is published within a renowned publisher's site (unless it actually is).
Examples of good and bad Landing Pages: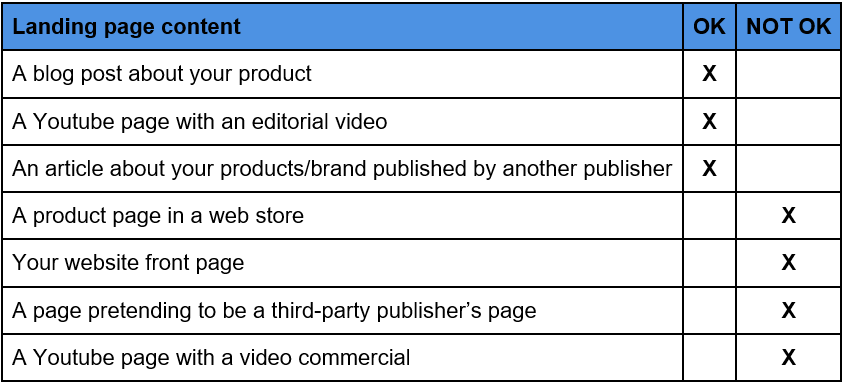 REFUSAL OF ADS ON LEGAL OR MORAL GROUNDS
Strossle must always comply with local advertising laws. We are especially restrictive regarding content and ads about tobacco, alcohol, gambling, sex, drugs, politics, religion and ads targeting children.
Next week we will look deeper into what quality content really means and how you can create it. Meanwhile, please read some of our cases to see how we can drive engaged users to your content.