Publishers and media creators, behold and rejoice: The disconnect between your content and the advertising that monetizes it is coming to an end! About bl**dy time!
Since the advent of the «data driven» advertising format - advertisers have been bidding on the users on media publications. The profiling of users has been done by the relentless cookie-sync process fueled by data collected about readers, but with complete disregard about what the reader is actually engaging with on your site!
Every human who ever ventured on to the internet has been on the receiving end of this method. Browser history / purchase history / collected data from a myriad of sources, processed on servers far-far away and relentlessly synced across the internet. In non-digital societies we'd call this behavior stalking - online its the digital advertising complex.
Well, no more.
Let's all agree on what the research and experience shows us: consumers don't want to be tracked online - and it's not just «average consumers» by the way. Advertising professional use adblockers too!!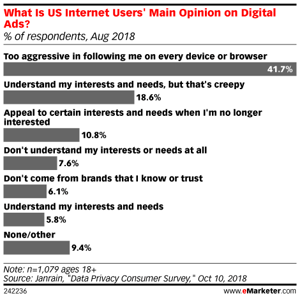 Ad to this the rise of digital privacy legislation like GDPR and CCPA, and it starts making sense for browsers like Safari and Chrome to begin blocking third party cookie syncing by default. Cookie syncing is slowing down the internet, it's rife with fraudulence and its fueling the use of ad blockers.
But what does this mean for publishers?
Well, we believe it means a "back to the future" for publishing. Targeting readers based on what engages them, known as Contextual targeting will become more commonplace online and ads will fit better into the environment of the editorial space they occupy. In other words, creating engaging content will be more profitable than click-baiting for impressions.
Strossle has been promoting Native Ads since 2014. A native ad is a commercial message that blends seamlessly into the environment that engages readers. Since January 2020 we've been strengthening our contextual targeting engine and running ads completely without cookie syncing. We believe the time for Contextual Targeting is now more than ever, and are inviting more publishers to join our more than 700+ partners across Europe.
Is Contextual Targeting any good?
Yes, we believe it is - and we're not alone. Several publishers are actively embracing the shift to contextually targeted ads including NPO in the Netherlands, Vox, the New York Times. Read more here
« I think that contextual is fundamentally the future of web advertising, and what they're doing at NPO is pretty much what every publisher's going to end up having to do.» Says Aram Zucker-Scharff, Director for Ad Engineering, The Washington Post, RED
Strossle 's native ads have long been outperforming display and video formats on vectors important to both advertisers and users.
Join the revolution
Stop the disconnect between your editorial content and the ads presented to your readers. Strossle has launched a fully self-serviced interface for publishers to support you. Here you can design a widget perfect for your website, set up management for your own Commercial content («House ads») and enable Strossle's Native ads to monetize it.
Strossle has always been a strong voice in the push for digital privacy and non-intrusive advertising. Our Native ads are sold to hundreds of leading brands and agency clients, and 50% of our revenue is funneled straight back to our publishing partners so they can focus on creating great journalism.
You can sign up below or contact us to learn more.
Photo by Luis Rivera on Unsplash