Every third woman will experience incontinence or spontaneous leakage of urine within her life. There is no exact data on the prevalence of incontinence in the population because, despite the efforts of many experts, this topic is still a great taboo, even in the 21st century. Many women who face these difficulties are afraid to even consult their doctor about this issue. Therefore, they often lack the necessary information and do not know how to address the issue of urine leakage.
Marketing a product no one wants to talk about
Essity Slovakia, s.r.o. is an international company originating in Sweden. They operate in the field of personal hygiene and health and have branches in 150 countries worldwide; employ over 46,000 people and offer many personal hygiene products or medical aid brands like TENA, Zewa, Libresse, Libero and Tork in their portfolio.
Challenges
"One of the biggest challenges we have been facing since the beginning of our operation on the Slovak market is the de-tabooing of the topic of incontinence. As a country, we have moved forward on many issues; we can discuss them openly. Essity strives to include incontinence among these topics as well." says Lenka Luptáková, Brand Manager Essity Slovakia, s. r. o.
"Considering this effort, we offer a broad portfolio of incontinence aids, from incontinence pads through absorbent panties to diaper panties.
In Slovakia and all over the world, women also try to live actively while aging, and therefore, they would not want to be limited by anything. And so they are looking for products to support their healthy lifestyle. Absorbent panties are a natural choice to meet this need, and therefore this category represents the most dynamically growing segment of incontinence aids.
In the summer of 2020, we also expanded our offer at Essity with black panties - Tena Lady Pants Noir. Thanks to them, female customers feel confident and comfortable, as if they were wearing regular underwear. We wanted to communicate this to the general public through a campaign implemented by the media agency ZenithMedia."
Goals
"The campaign's initial goal was the most significant possible reach and building awareness of a new product on the Slovak market among a suitable target group. At the same time, we wanted our female customers to be sure that the aid they would use daily would fit them 100%.
Therefore, we provided them with the opportunity to order a free test sample - fill out the form on the website. They were able to test the aid themselves and decide whether to continue using it.
The sending of samples represented the performance component of the campaign and the ratio of reach and awareness versus performance was approximately 50:50." says Ľuboš Oláh, Senior Digital Consultant ZenithMedia

Implementation and campaign results
Content marketing has been one of the basic pillars of the TENA brand's communication strategy for years. "Our role as a leader in incontinence aids is the promotion and the education in this quite sensitive topic. With these socially sensitive topics, we see that quality content and its distribution play an important role." Says Lenka Luptáková
"Strossle, as a platform for recommending content and a leader in this field in Slovakia, is an integral part of our campaigns. Broad reach, extended targeting options and campaign optimization are, among other elements, ways to increase awareness, arouse interest and get completed forms on the tena.sk website."
In the case of Tena Lady Pants Noir, we published a native article on the žena.sme.sk portal with tips on how to improve the quality of sex life in a long-term relationship. We subsequently shared this through the Strossle network across the Slovak media, while the creative design itself also included specific images of our products. Half of the campaign clicks were redirected to the native article, for a total of 6,200.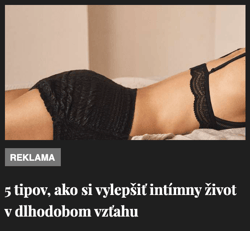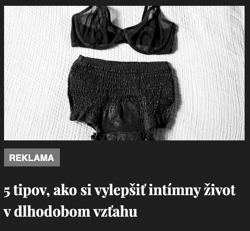 "5 tips on how to improve intimate life in a long term relationship." & "5 tips on how to improve your intimate life in a long term relationship"
With winning creative design, we noticed an average clickthrough rate (CTR) of up to 3.04%, about 6 times higher than the standard of other Strossle campaigns. "Worse" creativity also had a great, almost 2% clickthrough rate (CTR), which is significantly more than the overall average on the network. The average time on the page was more than 4 minutes, the highest of all the channels involved. It is crucial information because only the last fifth tip in the article was focused on the education and use of incontinence pants.
How many people ordered the test sample?
During the performance part of the campaign, we brought media visitors involved in Strossle directly to the page dedicated to the particular incontinence pants. The creative designs, in this case, were purely product-oriented, with a picture of the Tena Lady Pants Noir package, as you can find it in stores. We tested whether more conversions would result in a click directly on the order form, or rather on a cover page full of content, from which visitors had to make an extra click, though. The second half of the Strossle clicks, a total of 6,330, was used for this performance section.
Are you troubled by urine leakage? | The first black incontinence pants.
With the new TENA black incontinence pants you don't have to choose... | Looks like underwear, protects like TENA. Try a FREE SAMPLE.
For us it was crucial to find out that clicking directly into the form (pictured right), which had a conversion rate of 5%, worked better. An image on a full content page, but with an extra clickthrough, was half as powerful with a conversion rate of 2.5%. Therefore, we later turned off creativity with weaker results and left only the winning concept. Out of the mentioned number of clicks, we finally received 233 properly completed questionnaires with the order, i.e., about 4.35% conversion rate. It comfortably met the original target of expected 3%.
Conclusion and recommendation
The campaign overall, together with the other communication elements and media used, was highly successful. Therefore, our expectations have been met. We are glad that we have options and entities in the Slovak media market, such as Strossle, offering such wide possibilities of targeting, testing, and optimizing campaigns.
We also consider the dialogue between the client and the supplier to be essential, as it plays a crucial role in the successful achievement of the goals. The parties can better understand each other's needs and suggest appropriate steps and solutions. We hope that one day this will be the standard on the Slovak media market.
Case study contributors
Lenka Luptáková, Brand Manager Essity Slovakia, s. r. o.






Ľuboš Oláh, Senior Digital Consultant ZenithMedia, s. r. o., DIMAQ Certificate holder