Background
Compeed is a wellbeing brand, known for their therapeutic plaster and the slogan "Keeps you going".
For wellbeing products content marketing is a perfect fit. Potential customers get information about the products and how they work in manner that is informative and builds trust. These are products literally worn on the skin, and multiple questions and insecurities must be addressed.
With Strossles pay-per-click model, the campaign budget aligns exactly with the traffic goals. With contextually targeted native advertising, the campaign objectives are achieved in a reader friendly, non intrusive way. That is why Compeed chose Strossle as distribution channel for their content marketing.
Campaign Objectives
The primary objective was to increase awareness of Compeeds new cold sore plaster and its qualities. Increasing awareness about the range was the second.
Campaign Target Group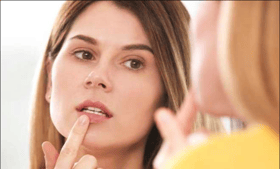 With innovation like the cold sore plaster, quality content is important (this is a brand new way to treat this problem). The segment that most commonly suffers from cold sores are 25-64 year old adults (women and men). The target group was very wide - basically "people who are interested in their wellbeing" and circa 20% of Finns get cold sore every year. The problem affects many.
"With the help of Strossle we learned, which articles were the most interesting among Compeed's potential buyers"
Jenny Kurjenniemi, Brand Manager
Role of Strossle
Role of native advertising was to create interest for how to address the affliction. Strossle offers a reliable and brand safe advertising format in the network of quality publishers. In this environment, attention is achieved by relaying insight and understanding. With an immersive site built around quality content - visitors were invited to read and discover help to a common problem, The result was an average time spent on site of 1,5 minutes in average.
Campaign Structure, KPI and Results
The campaign structure included 12 different ad creatives using several pictures and titles. It was a cost efficient way to see what kind of creative set worked the best for Compeed.

The content had been chosen based on the insight that those afflicted get cold sores multiple times, and are desperately seeking ways to solve the problem.
Compeed's Strossle - campaign achieved all its objectives. The average campaign CTR was 0,93% and best ad creative CTR was 1,23%.
Strossle's engagement pixel was installed to the campaign landing page. It measured the time spent on the article page.
Average time spent on the campaign page was according to Strossle 1 minute 30 seconds. This also supports the conclusion that campaign was a success and native advertising brings quality traffic to chosen content. The great bonus was, that during the campaign Compeed sales grew +7%.